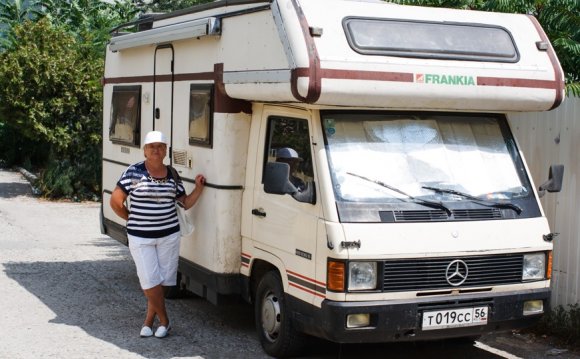 House On Mercedes Wheels And Photos
The Mercedes-Benz Sprinter 6x6 with the Bimobil Housing Module was created by an exclusive order from the three European companies. The main idea of the project was to create a modern, light forwarding house on high-road wheels and a combination of travel comfort, both on roads and on the highway. To date, only large, economically unsatisfactory, unsatisfactory requests from real buyers and heavy trucks have been available in this wheeled formula with close characteristics. However, Yachts on Wheels have been able to attract experts, identify partners and organize the conceptualization new home on wheels suitable for all necessary characteristics.
Oberaigner (Austria) upgraded the chassis, introduced a full drive system of 6x6 used for special purpose vehicles. Permanent full drive, longitudinal and transverse locking of differentials. Digital hydraulic brakes with reinforcement, 4-canal ABC with function ABD (automatic braking differential), 100L fuel tank, All-terrain rims and many unique patented technologies ready for our no-road.
Bimobil (Germany) has developed and installed an expedition type housing module for six bedrooms.
Technical characteristics:
In motor home kits:
♪ Seats with seat belts: 4 (+ Driver and passenger in cab)
♪ Three double beds
- Kitchen: gas plate, wash, closets, refrigerator
♪ 475 l.
♪ Auto heating (diesel fuel from the main tank)
♪ Separate shower cab
- The washinger.
♪ Windows, tarmostor hatches and insect nets
♪ Biotool
- Base Office
♪ Clothing suite
Share this Post